How and why we test GPUs
With currently more than 3000 graphics cards in our database, the question often arises as to how we test graphics cards and where our benchmark values and technical details come from. For test purposes, we always purchase several models from a series, which are then entered into our database. After a detailed test, suitable graphics cards then find their way into our mining farm. After a while, all mining-relevant information will be entered into our database.
GPU-Monkey.com was born out of the necessity that there was no website that had correctly compiled and published all the values and data we needed. We rely on classic benchmarks and also on practical applications and mining performance.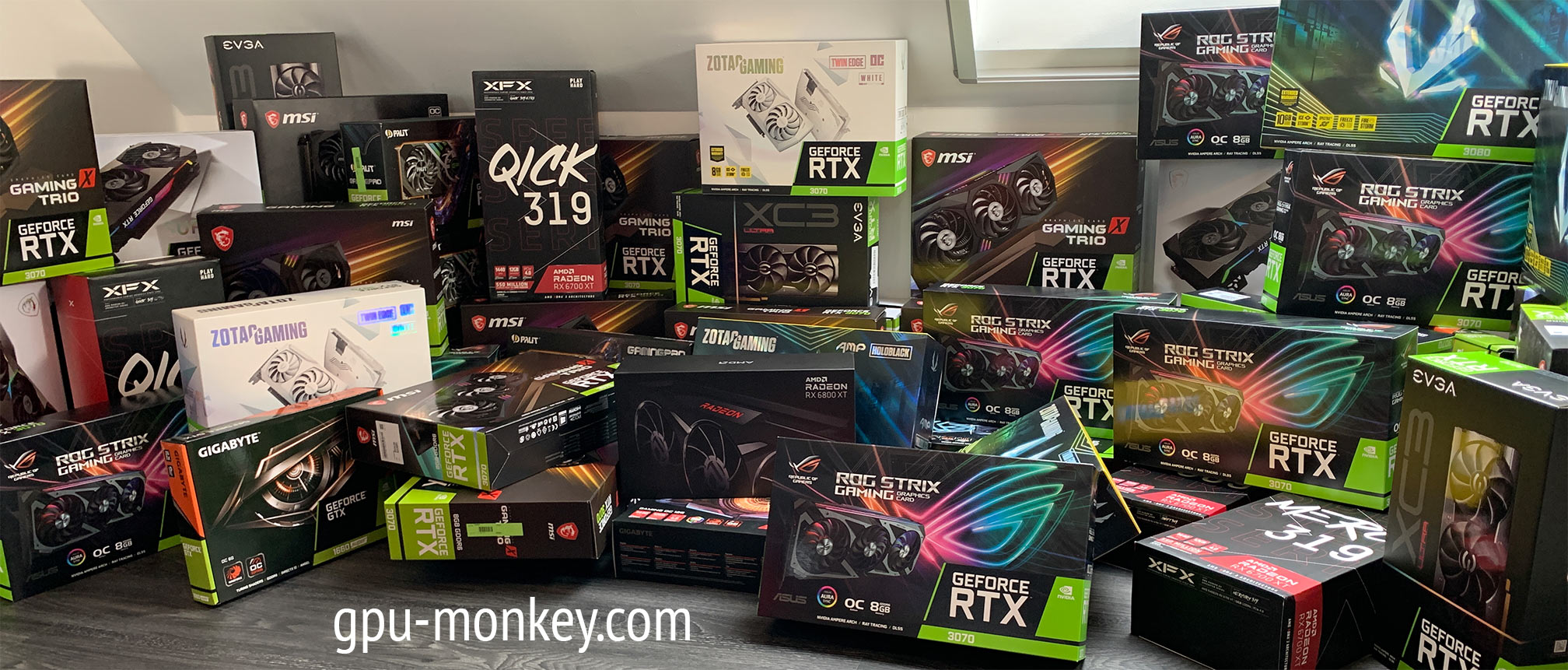 The subject of GPU mining in particular is still rarely or not correctly addressed in professional tests. With GPU-Monkey.com we give you the opportunity to benefit from our knowledge, our experience and, last but not least, from our test results in order to be able to make the right choice for you when buying a graphics card. In addition to various cryptocurrencies, we also test our graphics cards in synthetic benchmarks such as 3DMark and in some games. Since we buy our graphics cards ourselves and they are not test samples from the manufacturers, we pride ourselves on being 100 percent independent and neutral.
GPU-Monkey speed index
The GPU Monkey Speed Index is a transparent rating system for graphics cards that we developed. Our index can be used to quickly find out the speed of a graphics card and compare it with other graphics cards. We use "mp" as the unit for speed, which stands for
monkey points
.
The graphics card viewed by the visitor is then compared by its FP32 performance to the fastest model and accordingly receives a score calculated as the ratio of the FP32 performance compared to the fastest graphics card.
Our formula for calculating the score of a graphics card:
(GPU FP32 render speed [TFLOPS/S] / FP32 render speed fastest GPU [TFLOPS/S]) x 100
In this example, the graphics card achieves 81 mp (monkey points). This is 81% of the performance of the currently fastest graphics card in our database. This graphics card is suitable to play all games in the highest resolutions and details.
With a score of 34mp, this graphics card is about 1/3 as fast as the fastest graphics card. That's still enough to play many games in high resolutions. For very high resolutions (4K and higher) we recommend a faster graphics card.
Graphics cards with a score of 8 are suitable for lower resolutions and computer games with little details. Upgrading to a more powerful graphics card model is recommended.
back to index